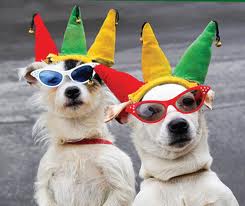 Our Annual SANTAS DOGGIE PARADE...
Saturday, November 26, on the Avila Promenade. We will be checking in dogs at 10:30 with the parade at 11:30 am. We need people to help with keeping the dogs in line once they check in and then keeping them in line throughout the parade. We also would love for you to enter your dogs into the parade if you are not a volunteer. Petco will once again give each participant a doggie bag and each dog will receive a participant ribbon. The categories for the costume contest are: Best Dog Costume, Best Dog/Owner Look Alike, Best Holiday Look, Funniest Costume, Best in Show, and our newest Rowdy Award!
Call Mary for Registration 805-627-1997 Registration Form
This has always been a fun event!